Ok….so my encounter with the guys!! May 13th, Minneapolis….FREAKING COLD!!! The show was awesome!! The guys however kept saying that it was probably the worst show they have ever done and I assume they thought that because of all the difficulties they were having. People shouting too much, guilty as charged….people throwing crap on stage, which ended up being pretty funny although still quite rude…mic problems with Bret, he had to start the Bus Driver Song over….and everyone is right, BRET IS CLUMSY!!! He completely chucked his mic offstage and almost hit a girl in the front row! Haha it was freaking hilarious…not the hitting part but the chucking part! All these things were dropping and crashing to the ground! But the way they handled it was GENIUS, just bouncing back and forth off another! And there songs were fabulous….my favorites were "Bret You've Got it Going On," Jenny," "If Your Into It," "Freaky," "Ex-Girlfriends," "Business Time,"….and ok I'm just going to name them ALL because they were ALL FREAKING AMAZING!!!
So before the show started Jess told me to yell Flighties at Arj because he would probably respond…well I did but he didn't hear me sadly. But when the guys' show was going on and everyone was already yelling their freakin heads off I thought, ok I just need to wait for a moment of silence and then let it ROAR. And so there was this moment where they had just calmed down the crowd after all this yelling and there was a moment of actual peace I yelled "FLIGHTIES LOVE YOU!!!" and Jemaine goes "oh! Thank you Flighties…now hush." HAHAHA!! It was the best!! And he looked right in my direction too…although I know he couldn't see me because I was 14 rows back.
But anyway, the rest of the show was amazing!! The encore was amazing!! They didn't sit at the end of the stage or anything because the seats were too close and the equipment was in the way but it was still really nice. After the show I met with Mike outside…he is really nice. I gave him a big hug just like we were old friends…ahhh Flighties are soooo awesome!!! So then we made our way out back. I was really nervous at first because I didn't know where they would be coming out…and there were like no people around. But then slowly they started to trickle in and the security guard made us line up. He said the guys' would be out in like a half hour…more like more than 2 hours!!! It was fricken FREEZING!! My hands felt like they couldn't even bend!! And can you imagine the anticipation?!?! I felt like they were never going to come out. Also…I was with my older sister and she's a fan but not like a huge fan and she didn't want to stay because she had work in the morning at 7…but I kept coaxing her. She was like ok 15 more minutes and then they didn't come out so she was like fine another 15 minutes, which ended up being 2 hours! Haha!! I love her.
So first Arj came out with these two whorish looking girls…sorry they so were. And he just walked past the line like we weren't even there. He was completely baked and I wouldn't be surprised it he was drunk as well. We all yelled his name and he then acknowledged us and smiled and waved but basically kept walking. So like a half hour later he comes back by himself and all I could think was were the heck could he have possibly gone?!?! To a friggen ally or something? Who freakin knows! But this time when he came by I was like "Arj! I want a picture!" so he stopped and was like "Hi." I was like "Hi I'm Ashley, I'm a Flighty!" then I showed him my shirt where it said Flighty and its practically on my boobs so he just like stared and then I closed my coat. But then he was like "Ahh yeah I know you…from my myspace. Flighties….yeah." And I was like "Yeah I'm the one who told you we would meet and it was going to be HOT!" Then everyone around laughed as well as him. Then we took a picture and then he just stared at me for a couple seconds and was like "Bye." And I was like "Arj...when are the guys coming out?" And he goes, "Yeah I'll go get um." And I was like, "yeah Arj, do that!!" And then everyone started laughing. But the guys seriously didnt come out forever after that!
(Ok…this is so weird right now because I feel like I should be making this up or something…. but I'm not!!! BIZARRE!!!)
So then like 45 minutes later or however much later the guys came out together!! There were all these people who had been drinking in the bar right by it and they all came out and budged in front. My sister was really pissed and kept freaking out but I was just fixated on the guys.
So I met Bret first!!! He came up to me with a big smile. His eyes are like freakin gorgeous!! I said "Hi! I'm Ashley! I'm a Flighty!" And then I showed him my shirt where it said Flighty, which is on my chest, so I was basically sticking my boobs out to him…. completely unintentional honest! But he laughed and then I went on about the stuffed toy I made. I was like "ok so I made this for you…its supposed to be a rhino but it looks nothing like it! It looks like a retarded bear or something!" And he looks at it for a second and then he looks up at me and said, "I love it!" And then I was like, "Yay!! See this is supposed to be the horn and this is your hair!!" And Mike was there and he said, "Yeah before you got a haircut." And I said, "Yeah, I noticed that!" And then Bret put the little guy in this front shirt pocket…it was TOO CUTE!!! So then he signed my cd cover and it says "Ashley, Thanks for the sweet horny doll." He signed his name and drew a cool guitar. While he was doing that I was just asking him if he was cold yet which he replied no and when he drew the guitar I was like "Aww yeah! I like that!!" So next were pictures!!! I said "Can I have a picture now? And a hug?" And he said "Yeah of course!!" So I gave him a big hug and our faces were touching!!! Then he squeezed me even harder and swayed back and forth, kind of like a little dance!! It was so awesome!! My camera has a really slow shutter speed and it takes forever to take a picture so before the picture was actually shot…Bret moved!! But…we got a GREAT shot anyway! And then he hugged me again thinking that we were going to take another picture but then we just laughed. I grabbed his arm and said, "it was really nice to meet you, and you rock!!" And he said, "thank you for the toy" and as he took it out it flung like 5 feet away. And my sister goes, "Oh no!! Get the toy!!!" And so he ran quickly over there, got it, and tucked it safely back in his pocket! Then I think I said thank you again and bye!! It was sooo OHSOME!!!
Now onto JEMAINE!!! AHHHHH!!! Oh my gosh I'm getting butterflies as I type!!!! So when he was done with the fan before he turned and looked at me. I walked up and said "Hi! I'm Ashley! I'm a Flighty!!" and I showed him my shirt. And he said, "Oh yeah, Ashley Marie! Flighty!" And then I gave him is present and explained that I made one for Bret too but it totally didn't look like a rhino. And then my sister says "yeah they smell good, like roses!" ( I like a dork sprayed them with this really yummy body spray I have from Victoria Secret) So he was smelling it and smelling it. And my sister goes "yeah it was in my pocket all night." And Jemaine goes, "do you have roses in your pocket?" And she goes, "maybe." And he laughed. And I said, "Oh! And all the Flighties say Hi!!" And he goes "was that you that shouted in there." And I got all blushy and embarrassed and said "yeah." And everyone laughed…even him! And then I said, "I'm sorry." And he goes "ahh no why would you be sorry." And I said, "Because you told me to hush! And I feel bad." And he goes "Ahh no! You got mentioned didn't you?" and I said, "Yes, thank you!!!" And then I said "OH!" and I turned around and said "do you like my bum?!" and he laughed and was like "oh…haha yis, I like it, your bum." Then I laughed and asked if he would sign my cd cover. So I gave it to him and he asked, "what should I write?" and I said "I don't know…that you like my bum or something." And then he laughed and everyone laughed. He looked at what Bret wrote and laughed. As he was signing we just made small talk. I asked him if he was cold yet and if he liked Minneapolis. He asked if I lived here and I said yeah but I'm moving to Chicago next year. And then he told me how they were playing in Chicago tomorrow. So anyway he wrote "I like your bum Ashley" on my cd cover and he goes, "your going to explain this right?" And I said, "I don't know, yeah, maybe." And he goes "ah no you don't have too." And I said "Ok good!!" and then I asked him for a pic and a hug. We hugged and just like Bret…our faces were touching!!! Ahhh it was soo amazing!! He was all warm and I did NOT want to let go!! And then I looked him in the eyes and said thank you so much! And then I got another pic with him, my sister and me. Then we asked if we could get a photo with Bret as well, all four of us, but Bret was busy with another fan. Jemaine was like, "yeah it looks like hes pretty preoccupied." And I was like "ahh darn." And then Jemaine goes, "well lets go sneak up on him from behind." And so we basically just walked over there, grabbed him and was like, "Bret we need a picture!" It was so not sneaky as we had to readjust for the picture like 3 times! And then I said Jemaine can I get one last hug? And he said "yeah!" and I went over and gave him a full-fledged big bear hug!!! It was OHSOME!!!!! Then I stuck around to take another girls picture for her because she didn't have a camera. And then I gave Jemaine one last goodbye. He stuck his hand out and I gave him a hi-five!!!
Overall…this was one of the best things in my entire life!! I still can't grasp the fact that it actually happened. Like I'm not freaking out or anything right and I know I should be but it seems so UNREAL!!! Maybe when I get the pictures up it will seem more real.
AHHHH!! I can't believe this happened!!! I love you Flighties!! I'm glad that I had so many awesome people behind me!! You're the BEST!!!
NOW PHOTOS!!! (I look really awful in all of them because I'm freakin freezing and completely on another planet!! AHHH!
This is the sign!!!
These are there presents!! Bret's looks soo silly!!
Mike and I!! YAY!! Flighties UNITE!!!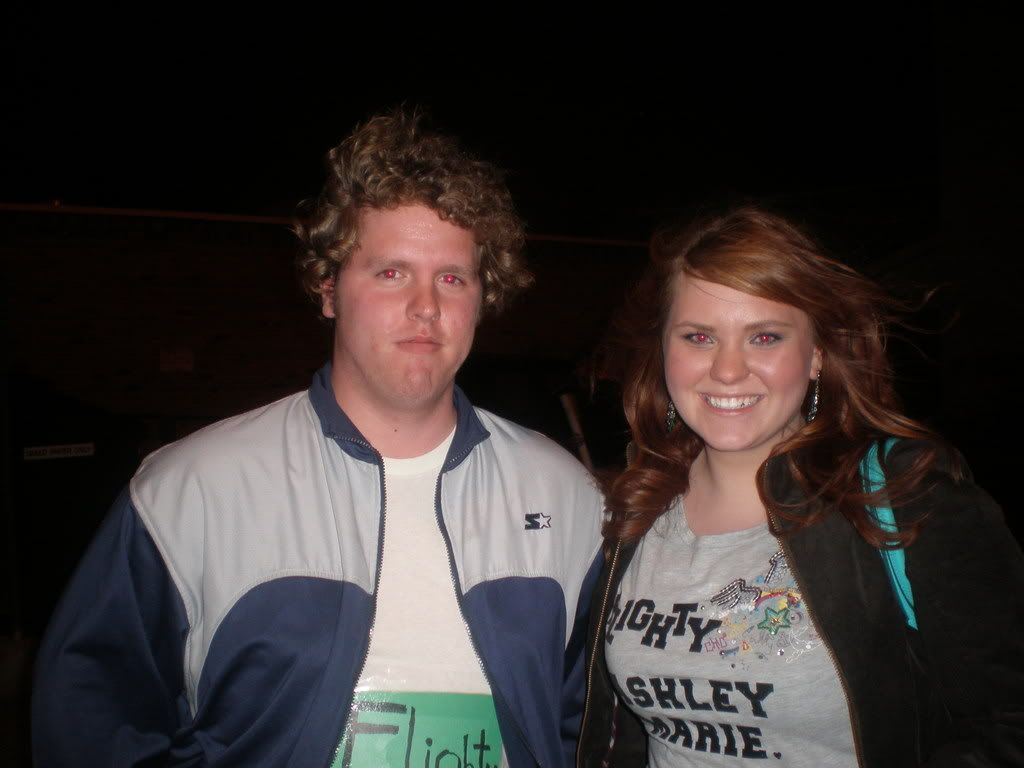 Arj and I...oh Arj. Haha!!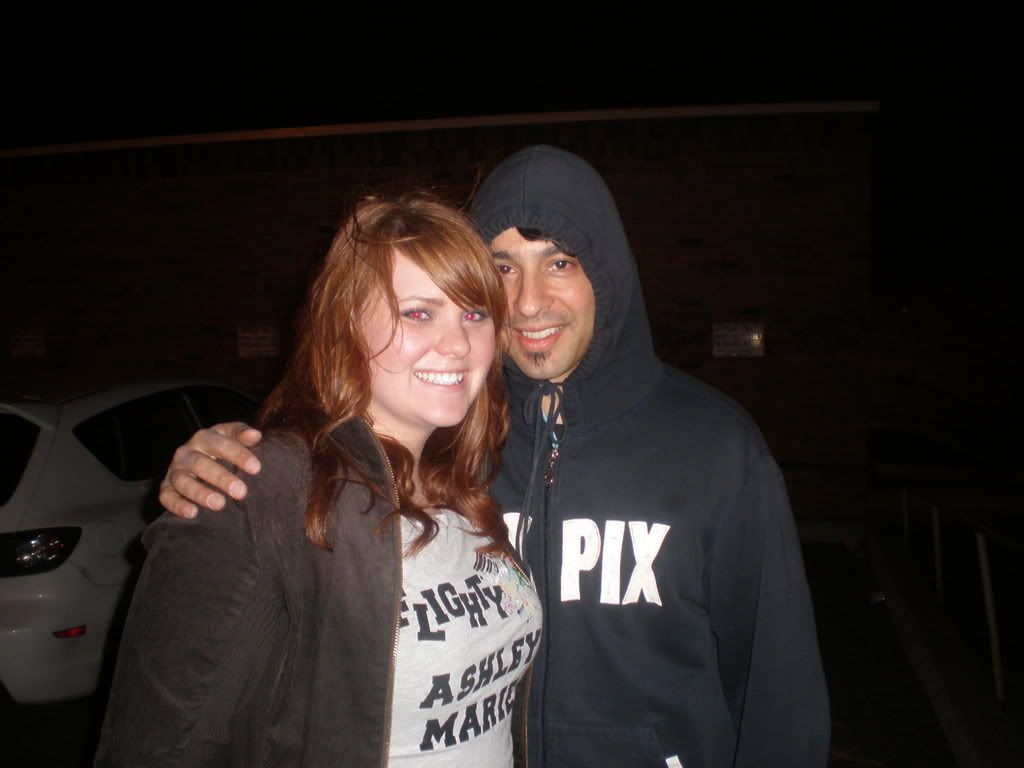 Bret signing my cd!
Bret and I trying to take a picture but it took too long!! This was just when he broke away and I was like no wait!!....but still a really good picture!
Me, my sis, and Bret!
And MY DREAM COME TRUE!!!! Me and JEMAINE!!! We are seriously meant to be...I swear!!!
Me, my sis, and JEMAINE!!!
All of us!! YAY!!
ENJOY FLIGHTIES!! LOVE YOU MUCH!!