Jemaine and Bret in their acceptance speech for Best Group at Vodafone New Zealand Music Awards said, that they're barely even a group and The Phoenix Foundation should've won this. I guess it's not because TPF is more than two people band, but because they're really the best.
[youtube]http://www.youtube.com/watch?v=d7zXwRWcn0M[/youtube]
Wellington's Phoenix Foundation take their name from the bosses in MacGyver; collect fifteen indie points right there. Normally a choice of moniker like that would only tell you the band watched TV in the '80s, but, being New Zealanders, it also falls in with the country being sealed in a tongue-in-cheek pop culture time-warp. If you've ever seen HBO's Flight of the Conchords, you'll know how easy it is to make cracks about far-flung Kiwis, each of them portrayed as floundering bumpkins who all drink together back home. Turns out that the Phoenix Foundation are not only on first name terms with folk-clowns FotC—when collecting their Best NZ Group 2009 award, Jemaine Conchord told the crowd the trophy should have gone to the Foundation—but they've also had the nod from Crowded House's Neil Finn, arguably New Zealand's most famous export next to lambs' knuckles, bar staff, and Edmund Hilary.
source
For me, getting to know the Conchords equaled discovering this band. So here is:
sargifster wrote:

Phoenix Foundation thread!
Conrad Wedde (guitars, keys), Will Rickets (percussion), Warner Emery (bass guitar),
Richie Singleton (drums), Samuel Flynn Scott (guitars, vocals), Luke Buda (guitars, vocals, keys)
The Phoenix Foundation
is a band from Wellington which made a wonderful soundtrack to Taika Waititi's
Eagle vs Shark
. Most of the songs from the soundtrack were taken from first two albums of TPF (
Horsepower
, 2004 and
Pegasus
, 2005). Their third album
Happy Ending
was released in 2007 and Taika directed the videos for their songs: "40 years" and "Bright Grey".
Eagle vs Shark
is not the only film where their songs have featured. This year, you could see Paul Middleditch's
Separation City
in New Zealand cinemas with some songs made by these boys.
At the moment they're working on the fourth album.
So, where can you find TPF?
Official website
Official MySpace profile
thephoenixfoundationnz (my personal recommendation)
Official facebook profile
Official Twitter account
(something new to them)
Three band members (as far as I know) do their solo or side projects.
Sam Scott
plays with the other band called The Bunnies on Ponies
Official MySpace profile
He tweets a lot as well:
here's his twitter account
and has got a
You Tube profile
Luke Buda
(my favourite band member, because of patriotic reasons
) released his first solo album "Special surprise" in 2006.
Luke's MySpace profile
Special Surprise official website
Taika directed a video
"My Imminent Demise"
.
Luke was also an extra in
Eagle vs. Shark
. He was dressed as a bear at the Animal Party at Jarrod's place. Very suitable.
If you've got stills, you're very welcome to post them here.
Acquiring new computer skills, I've made the screencaps by myself: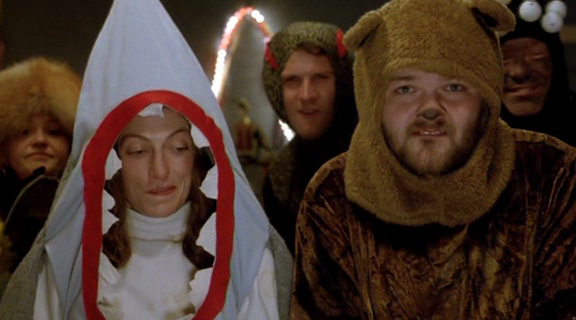 lost...
Richie Singleton
has released his solo album "The Walls of the Well" as Rebel Peasant this year.
Official website
MySpace profile
Some photos from The Phoenix Foundation myspace: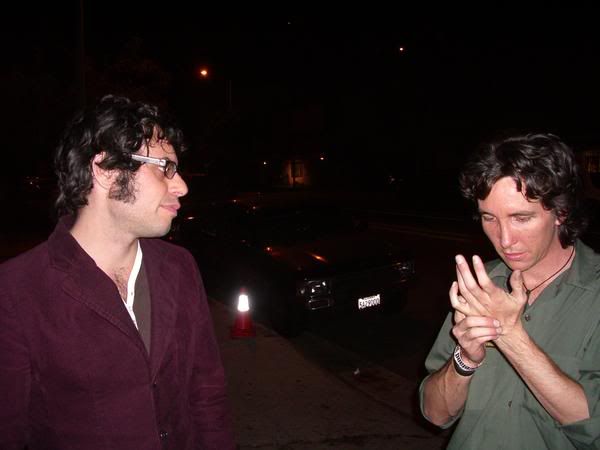 I think Jemaine's love for omnichords comes from the friendship with the guys from TPF
Bret looks very pixie here or he just met another ogre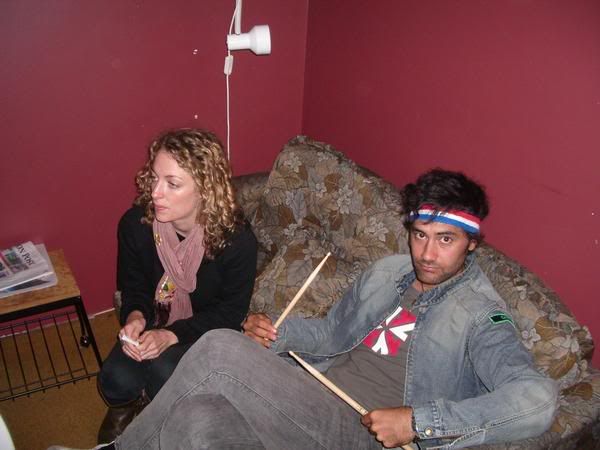 working on the soundtrack;
notice Taika's tee! I've got a hoodie with this logo; Breterosexuals will know why
now Luke gives you the floor